UHDTV at reasonable deployment cost
Mezzanine compression technologies basically allow doing more with less.
By encoding and slightly compressing the video content, lowered bandwidth requirements permit to carry on higher resolution, frame rate or bit depth video on an undersized transport infrastructure.
The most typical use case for mezzanine compression, is to enable UHD – 4K and 8K – feeds usage on a video network initially sized for HD production.
Mezzanine compression solutions
In the context of the TV broadcast industry transition to IP-based workflows, several encoding solutions emerged from different vendors and consortiums, and two of them progressed until a good standardization and market adoption level:
TICO
TICO is a lightweight mezzanine compression codec developed by intoPIX to achieve near lossless quality at very low compression ratios and for a very low hardware/software complexity and cost. 
The TICO codec offers visually lossless compression at ratios up to 4:1.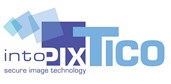 That ratio allows conveying 4K content over a 3G-SDI setup initially built for HD workflows, what was one of the key motivation of this codec and the reason why intoPIX promoted it together with a specific SDI mapping.
In parallel of SDI use cases, the TV industry migration to IP lead to the creation of the SMPTE ST 2022-6 standard. In this ecosystem, a SDI signal is completely mapped into a RTP-based transport container, typically intended to be carried on over a 10 GbE (Gigabit Ethernet) network.
The 10G bandwidth is sufficient to permit up to three 3G-SDI feeds running in parallel, but is too short for 4K transport at up to 60 frames per second. Using TICO makes UHDTV possible on 10 GbE, either through SMPTE ST 2022-6 mapping of the SDI bitstream, or directly as a RTP essence.
The SMPTE RDD 35 document summarizes normative information and technical guidance for TICO usage in IP networks or SDI infrastructures.
JPEG XS
JPEG XS is an international standard from the JPEG Committee, defining an interoperable, visually lossless, low-latency lightweight image coding used for mezzanine compression within any AV market.

By implementing low-complexity and low-latency encoding with visually lossless quality at ratio around 10:1, the main intend of JPEG XS is to replace uncompressed video where density or resolution must be increased with few or no impact on the infrastructure.
With such a codec, one can for example achieve from 25 to 66 1080p60 streams over a single 10GbE connection, or carry on up to 20 4K60 feeds on a 10GbE network, and even think at transporting 8K content using a single 3G-SDI cable.
The JPEG XS standard splits in 5 parts:
P

art-1 (Core coding system) relates to the actual compression algorithm

Part-2 (Profiles and buffer models) defines several profiles for particular applications or content type

Part-3 (Transport and container formats)

specifies

various file formats and transport formats

Part-4 (Conformance testing)

handle everything related to conformance testing

Part-5 (Reference software)

defines a

reference software to support and guide implementers with developing compliant JPEG XS products
JPEG XS is cited as the mezzanine compression technology to use in different ecosystems. The ST 2110-22 standard applies to its usage in the SMPTE 2110 family of norms.
DELTACAST mezzanine compression powered products
The IP Virtual Card is a SMPTE 2110 software stack for Windows and Linux computers.

It implements various essence types, including ST 2110-22 which defines the transport of compressed video, typically using JPEG XS. In this context, DELTACAST validated proper cohabitation and interoperability of the VideoMaster SDK and TICO XS SDK from Intopix.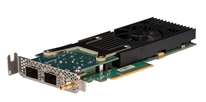 DELTA-ip-ST2022-6-tico is a dual-port 10GbE card. The main port supports up to three 3G/HD/SD SDI channels embedded in ST2022-6 datagrams with optional support for FEC streams as per ST2022-5, while the second 10GbE port is used for seamless protection switching of datagrams as per ST2022-7.
Up to 3 simultaneous UHD streams are supported thanks to TICO compression. The card can be freely re-flashed as an input or an output card.
Output channels are powered with TICO profile-2 encoder. Input channels support both profile-1 and profile-2.