UHDTV at reasonable deployment costs
A 4K uncompressed picture requires four times the bandwidth of a HD signal. It hence requires the whole SDI cabling infrastructure to be multiplied by four.
On the other hand, current workflows for IP transport of video signals are based on 10GbE networks, while a 4K60 feed requires 12 Gbps.
To transport 4K streams through the existing infrastructures, a mezzanine compression (like TICO, VC-2...) makes completely sense.
Mezzanine compression standards and ecosystems
Major technological moves often come with lots of standard or proprietary solutions making their way in the industry.
People then exhibit preferences or dislikes in using either solution, and the market progressively adopts a few reference standards that will regulate equipment behavior to allow interoperability.
Today, several solutions emerge for mezzanine compression.
The official partners of DELTACAST include:
SMPTE 2022-6: standarization of SMPTE RDD 35 and SMPTE 2042.
Sony IP Live Production System: LLVC (Low Latency Video Codec).
TICO: TICO is a lightweight compression promoted by intoPIX, aiming to ease UHD formats adoption over current SDI and IP infrastructure by reducing the needed bandwidth by a factor up to 4
VC-2 HQ : The VC-2 HQ (High Quality) Codec is ideally suited for ultra-low latency video transmission. The low complexity of the algorithm allows cost-effective compression of the video stream. The VC-2 High Quality compression algorithm is a simple wavelet-based intra-frame codec. The algorithm is described in the SMPTE 2042 standard, "VC-2 Video Compression".
TICO – also known as SMPTE RDD 35 – offers a 4:1 compression ratio while insuring visually lossless quality and ultra-low latency.
DELTACAST is member of the TICO Alliance and actively works on integrating this technology within its portfolio of video I/O cards.
This transition is not only about technological challenges, but also about opening doors to new ways of working, to closer collaborations between different TV production departments, and to innovative economic models.
DELTACAST
mezzanine compression 

powered products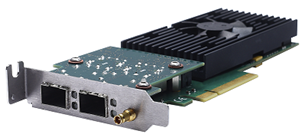 DELTA-ip-ST2022-6-tico is a dual-port 10GbE card. The main port supports up to three 3G/HD/SD SDI channels embedded in ST2022-6 datagrams with optional support for FEC streams as per ST2022-5, while the second 10GbE port is used for seamless protection switching of datagrams as per ST2022-7.
UHD formats are supported thanks to TICO compression. The card can be freely re-flashed as an input or an output card.
Output channels are powered with TICO profile-2 encoder. Input channels support both profile-1 and profile-2.
Do not hesitate to contact DELTACAST for more information.