What is 12G-SDI?
12G-SDI is a SDI signal running around 12 Gigabits per second.
This line rate fits the requirements of a UHD/4K transmission at 60 frames per second.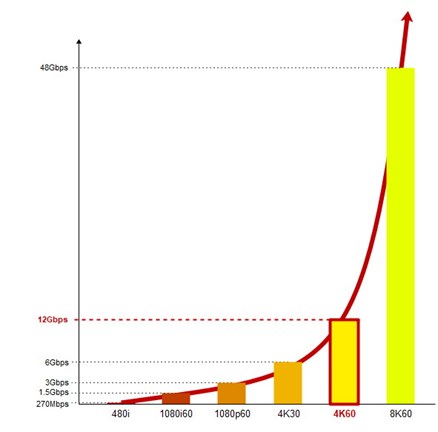 From a content point of view, a 12G-SDI signal is a single-wire multiplex of eight 148.5 MHz sources, meaning 8x HD-SDI, or 4x 3G-SDI.
SMPTE ST2082-1 defines the 12G-SDI signals electrical and physical characteristics for the transport of video content over coaxial cable interface.
The primary purpose of 12G-SDI is to convey 2160-line pictures – aka 4K or UHD – on a single wire. This usage of 12G interfaces is standardized as SMPTE ST2082-10 Mode 1.

There also exists a Mode 2 dedicated to the transport of HFR (High Frame Rate) HD video.
2160p transport over 12G-SDI is based on the 2 sample interleave sub-division defined in ST425-5, where the 8 data streams are then multiplexed on the 12G interface :
From the application perspective, quad-link transport using ST425-5 and single-link transport using ST2082-10 are very similar.
Combining four 12G-SDI links allows driving 8K (UHDTV-2) resolutions at up to 60 frames per second. DELTACAST cards equiped with at least four 12G-SDI connectors in the same direction support 8K video in quadrants split mode and in 2SI mode as per SMPTE ST 2082-12 standard.
DELTACAST is active on the 12G road since many years with some early adopters. Then, feeling an appropriate answer from the market, DELTACAST officially added the first 12G-SDI products to its portfolio in 2018.