Broadcast IP workflows - a major industry move
The broadcast industry is operating a major transition, with the move away from baseband video to adopt IP-based video contribution workflows.
This transition is not only about technological challenges, but also about opening doors to new ways of working, to closer collaborations between different TV production departments, and to innovative economic models.
IP infrastructures have been used for years in broadcast distribution premises, where compressed video usage reduces the throughput needs to affordable figures. Cable headends are used to work with SMPTE 2022-1/2 setups.
Using IP infrastructures in TV contribution services, where an optimal picture quality is essential, now becomes a technical reality thanks to increasing network bandwidths and computer processing power.
Nowadays, 10, 25, 100GbE connections allow to effortlessly carry on several 1080p uncompressed feeds, and even 4K content.
By using visually lossless codecs, network links usage can even be further optimized.
The SMPTE IP standards and ecosystem
Since the debuts of IP streaming usage for broadcasting workflows, several solutions emerged from different origins.

For instance, the SMPTE body worked out new families of norms for uncompressed video transport :
SMPTE ST 2022-6: this SMPTE standard uses RTP containers to carry on uncompressed SDI video. It can be coupled with SMPTE 2022-5 to add forward error correction capabilities, as well as with SMPTE 2022-7 for support redundancy and seamless protection switching
SMPTE ST 2110 : this complete ecosystem of SMPTE standards, built on the work of VSF TR03 and TR04, and of AES67, define an essence-based framework for multimedia streams transport over Ethernet connections

Being essentially streaming protocols and standards, SMPTE ST 2022-6 and ST 2110 implementations also rely on the NMOS (Networked Media Open Specifications) family of norms, proposed by the AMWA organization, to deal with network management and security.
On top of that, the AIMS alliance promotes the the adoption of these new standards within the industry.
All these groups activities are surrounded by the JT-NM (Joined Task Force on Networked Media) that also insures products compliance through the JT-NM Tested program successfully passed by several DELTACAST products.
      
Besides that, these groups work on other proposals, like IPMX (Internet Protocol Media eXperience) based on ST 2110 and introduced by AIMS to address the ProAV industry.
Other families of protocols
Besides the SMPTE proposals, for specific usages proprietary solutions like NDI from Newtek take important place on the market.

The NDI framework offers a complete solution including compressed video streaming and network management and discovery.
SRT (Secure Reliable Transport) is a streaming protocol initially provided by Haivision, and which is now an open source standard promoted by the SRT Alliance.
SRT mainly focus on the video transport over unsecure and unpredictable network, and hence over the public Internet.
RIST (Reliable Internet Stream Transport) is an open source, open specifications, streaming protocol developed and promoted by VSF (Video Service Forum) to address video transport over the public Internet.

Rather than video transport protocols, TICO is a family of video codecs developed and promoted by intoPIX.
One of these codecs, TICO RDD35, is a lightweight compression promoted by intoPIX, aiming to ease UHD formats adoption over current SDI and IP infrastructure by reducing the needed bandwidth by a factor up to 4.

DELTACAST solutions for IP workflow
Addressing new standards at the soonest is a key element of DELTACAST strategy, and the objective is to provide customers with the smoothest transition from standard to standard, thanks to its unified VideoMaster SDK for the PCIe cards and the FLEX modules, and thanks to the IP Virtual Card and VideoMasterIP SDK for software-based IP workflows implementations.
DELTACAST actively follows all IP battle fronts and already owns solutions to address a number of use cases:
The DELTA-ip-ST2110 10 and DELTA-ip-ST2110 01 are dual 10GbE interface card that support SMPTE ST 2110 video, audio and ancillary data streams in reception and transmission.
The cards also implement SMPTE ST 2022-7 seamless protection switching mechanism (redundant streams).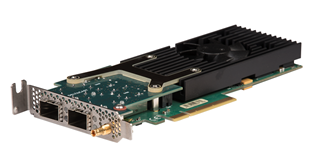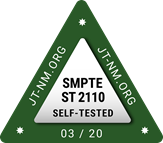 Since May 2020, DELTACAST ST2110 reception and transmission products successfully obtained the "Self-Tested in Accordance with JT-NM Test Plan for SMPTE ST 2110" badge! 
The DELTA-ip-ST2022-6 10 & DELTA-ip-ST2022-6 01 are dual 10GbE interface card that support SMPTE ST 2022-6 "SDI over IP" reception and transmission. The cards also implement SMPTE ST 2022-5 Forward Error Correction and SMPTE ST 2022-7 seamless protection switching mechanism (redundant streams).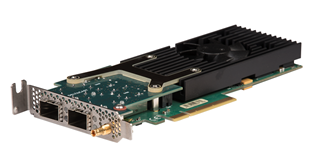 The DELTA-ip-ST2022-6-tico is a dual 10GbE interface card on which UHD formats are supported thanks to TICO RDD35 compression.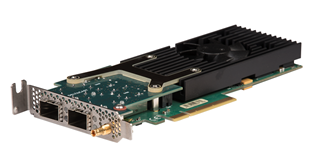 Besides hardware PCI Express cards, DELTACAST also develops the IP Virtual Card, a software framework dedicated to high-performance video streaming over COTS network cards.

Designed from the ground up to allow high-performances multimedia capture and streaming using an off-the-shelf network card, the first version of the IP Virtual Card targets SMPTE ST2110 connectivity.
The IP Virtual Card brings in support for video transport as per ST2110-20, audio transport as per ST2110-30, and ancillary data transport as per ST2110-40. It also includes a PTP synchronization solution compliant to ST2059. Thanks to an optimized network stack, the IP Virtual Card insures accurate, PTP locked, media streams compliant to ST2110-21 Type W senders, and it allows implementing ST2110-21 Type A receivers.
The IP Virtual Card implements an optimized network stack based on the operating system sockets, so that it is compatible with any NIC brand and model, and so that it can be used under Windows and Linux, and also targeting virtualization environments and execution in containers. For most demanding applications, the IP Virtual Card also exists in a version based on the popular DPDK kernel bypass currently available for Linux.
The two following animations show different possibilities for IP ingestion and playout thanks to DELTACAST solutions.