Thursday, September 14, 2023 - PRESS RELEASE - DELTACAST INTRODUCES NEW MIXED SDI HDMI VIDEO I/O SOLUTION FOR REAL-TIME AI/AUGMENTED REALITY IN MEDICAL CONTEXT.
PRESS RELEASE - DELTACAST INTRODUCES NEW MIXED SDI HDMI VIDEO I/O SOLUTION FOR REAL-TIME AI/AUGMENTED REALITY IN MEDICAL CONTEXT.
The new DELTACAST mixed SDI HDMI I/O card provides medical OEMs and developers with the versatility to capture, process and stream 4K video either in SDI or HDMI. The new DELTA-12G11-hmi11-e-key card is specifically designed for medical imaging context where real-time video, low latency, safety and robustness are paramount.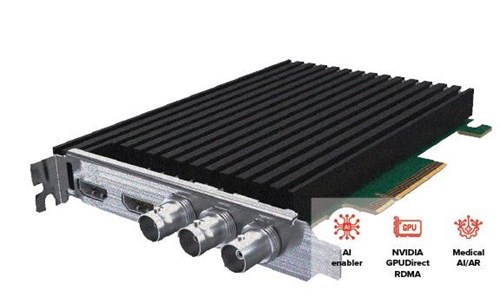 ANS, Belgium – September 15th, 2023 – DELTACAST unveils the latest addition to its range of I/O cards, the DELTA-12G11-hmi11-e-key. This card offers 1x SDI or HDMI 4K60 video capture, an on-board keyer for real-time overlays, and 1x SDI or HDMI playout. Designed with high-performance real-time video and AI applications in mind, this card boasts a half-length form factor, with passive heatsink for optimal robustness.
SDI/HDMI versatility: this new cards offers the versatility to capture and stream out in either SDI or HDMI to easily adapt to the video interface context in the operating room.
Low latency video streaming: the support of GPUDirect RDMA ensures fast data transfer between the video card and the GPU without soliciting the CPU, host memory. It results in a gain in latency while saving CPU cycles and host memory buffers & bandwidth.
Easy integration with NVIDIA Holoscan IGX platforms for real-time AI/AR applications: DELTACAST provides open-source GXF codelets and C++ operators for the NVIDIA Holoscan ecosystem, tailored for AI-powered medical devices and industrial vision applications. Alternatively, developers can work with VideoMaster SDK for 100% control in the development of real-time video applications. VideoMaster SDK is compatible with Linux, Windows, macOS operating systems, and runs on X86-64 or ARM platforms.
Failsafe of the AI/AR system in the operating room: when reliability matters, the integrated passive bypass automatically connect the input to the output to prevent signal interruptions in case of power outages, system crashes, or other issues with the AI/AR application.
IEC 60601-1-2 for medical devices: the new DELTA-12G11-hmi11-e-key has undergone strict testing to comply with EMC requirements for the certification of medical electrical devices.
Full custom design services for OEMs: medical devices OEMs will find with DELTACAST more than video I/O cards. With 30+ years of video expertise, DELTACAST offers a large flexibility to adapt its solutions to the new innovative use cases.
 "This new card is the continuity of our DELTA-12G-key 11 providing the market with video solutions for the most demanding real-time AI pipelines" explains Gérald Olivier, Head of Product Marketing at DELTACAST.
Availability
The new DELTA-12G11-hmi11-e-key can be ordered right now. Contact DELTACAST now to reserve your card.
About DELTACAST
DELTACAST, leader in live video solutions, emerged from the TV broadcast sector. It pioneers in high-quality, low-latency video transport and processing solutions for OEMs and developers. For over 30 years, it has been designing and producing top-tier innovative solutions, renowned for superior quality and minimal latency, cater to TV broadcasting, ProAV, healthcare, aerospace, and more. DELTACAST offers a unified SDK, ensuring interoperability and accommodating evolving standards. Its commitment to excellence is highlighted by ISO 9001 certification, fostering continuous improvement in design and production. Customized solutions, and direct engineer support underline DELTACAST's dedication to facilitating successful product utilization.
For more information, contact us.
Media Contact:
Muriel Delépont
Communication Manager
Email : m.delepont[at]deltacast.tv