Wednesday, April 11, 2018 - VideoMaster software solution showcased on CISCO booth @ NAB 2018
DELTACAST and CISCO continue their IP collaboration with the VideoMaster ST2110 solution
Las Vegas, April 11, 2018 – Since IBC 2016, DELTACAST's VideoMaster SDK software streaming solution allows developers designing IP ingest and playout products based on COTS network card. Today, besides the SMPTE ST2022-6 standard, the solution also supports SMPTE ST2110.
As both a hardware and software company, DELTACAST commits itself to support adopters of new IP streaming technologies, with its ST2110 video card and to its revolutionary software streaming solution.

DELTACAST continues its collaboration with CISCO, whose history in networking will positively impact the evolution of the broadcast industry to IP-centric workflows and tools.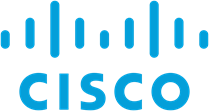 At NAB 2018 Cisco is demonstrating technology for the next major industry transition in live media production after the adoption of IP - the move from dedicated appliances to software running in the generic data centre.
DELTACAST's VideoMaster software can be seen running as part of the next-generation data centre demonstration on the Cisco stand at SU8502CM.
NAB is the perfect occasion to discuss how DELTACAST can support you in the migration of your products to IP. Come and see it by yourself on booth SL11813 or SU8502CM!
"The movements towards IP will provide the TV broadcast market with all the evolutions and services of the IT world, such as connectivity and virtualization", says Christian Dutilleux, CEO of DELTACAST. "We are proud to continue working with a major IT actor such as CISCO and to ease the access to this new environment for our customers."