Monday, August 08, 2016 - DELTACAST's DELTA-ip-st2022-6 10 and DELTA-ip-st2022-6 01 available for purchase now!
Make your step into IP with DELTACAST
DELTACAST launches its first 2 IP products: DELTA-ip-ST2022-6 10 and DELTA-ip-ST2022-6 01 that are today available for purchase and immediate delivery: contact us right away!
The broadcast industry lives a major transition, from baseband video to IP-based video contribution workflows. Amongst the different initiatives defining new frameworks for the IP transition, the SMPTE ST2022-6 standard is currently the most widely adopted.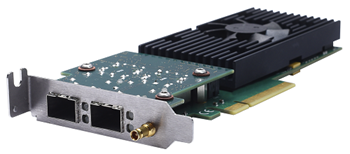 DELTACAST portfolio now includes two new low profile products addressing this industry adoption:
The DELTA-ip-ST2022-6 10 is a dual-port 10GbE card. The main input supports up to three 3G/HD/SD SDI channels embedded in ST2022-6 datagrams with optional support for FEC streams as per ST2022-5, while the second 10GbE port is used for seamless protection switching of datagrams as per ST2022-7.
The DELTA-ip-ST2022-6 01 is a dual-port 10GbE card, with one output instead of one input.
Note that the "10" for input and "01" for output are pre-configurations on delivery which can be reprogrammed by the developer if necessary.
These new cards are obviously integrated within the unified VideoMaster SDK, allowing integrators to address them just as they are used to work with DELTACAST products for SDI, HDMI and DVI interfaces.
The DELTACAST SMPTE ST2022-6 capture and transmission cards are the ideal products to design edge devices and to seamlessly and efficiently provide an IP alternative to baseband interfaces of products based on other DELTACAST cards. In parallel, DELTACAST is active on other implementations like VSF TR-03, TICO, SONY NMI, ASPEN…