Meet DELTACAST at ISE 2023
Thursday, January 12th, 2023
Come to see us at ISE 2023 to learn about the latest live 8K video transport and processing solutions for video OEMs.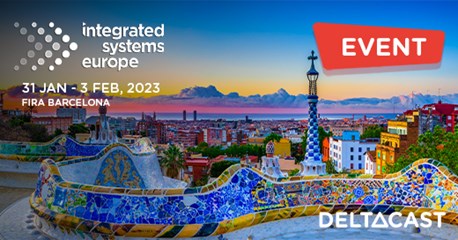 When: From Jan 31 to Feb 3, 2023
Where: Barcelone, Europa Fira
Stand: Booth 5.C550
Registration: Get your free complimentary ticket by clicking here OR using this invitation code: E9UHGKEQ
Book a meeting with us: contact@deltacast.tv
In a world where video is everywhere, the best live immersive experiences start with high quality and low latency video transport over SDI, HDMI™, DisplayPort™ or IP. From January 31 to February 3, the DELTACAST booth at ISE 2023 in Barcelona, will be the right place for OEMs and developers to chat with our video experts. Our product managers will be present all along the fair. Book your meeting now and swing by our booth 5.C550.
SNEAK PEEK
DELTACAST announces a new plug-in for Unreal, unlocking 3D and xR applications for your media servers using DELTACAST I/O cards.
YOUR SMOOTH TRANSITION TO AVoIP
Because IPMX is built on SMPTE ST 2110, DELTACAST IP products are ready to support your transition. With up to 9x 4K uncompressed streams on a single 100Gbe NIC card and with the additional support of JPEG XS, our IP Virtual Card is today the reference for software-based video transport over IP. As the goal of the IP Virtual Card is to abstract any form of video transport over IP, we are also welcoming demands around other ecosystems like NDI, SDVoE or HDBaseT.
HIGH I/O DENSITY IN SDI OR HDMI™
Up to 8x 4K on a single PCIe slot… And you, how many channels do you need on a single PCIe slot?
GPU PROCESSING
Does your application require GPU processing? All DELTACAST video I/O cards support GPU Direct RDMA, cutting PCIe bandwidth consumption by a factor two and saving CPU cycles.
There are many reasons for developers to visit DELTACAST at ISE 2023.
Set up an appointment to explore how these new solutions can speed up your time-to-market and enhance the live events experience! Or contact us right away.