Press Release : DELTACAST and Smode offer flexible solution for Virtual production studios
Tuesday, 7th June 2022
Virtual production studio "Plateau Virtuel" upgrades its existing Unreal setup to Extended Reality (xR) thanks to SMODE and to DELTACAST FLEX solution
The smooth combination of SMODE Media Server and FLEX SDI/DisplayPort™ capture and playout modules from DELTACAST gave the virtual production studio the easiest way to upgrade its existing Unreal/nDisplay setup to xR (Extended Reality), while meeting the highest requirements for latency and synchronization.
Ans (Belgium) & Paris (France), June 7th  2022 - Plateau Virtuel is a virtual production studio dedicated to the shooting of films, fictions, clips, advertisements. The scenery is projected on LED screens, in the background, built in Unreal, a 3D software used by video game creators.
To make the filmed scenery become real, Plateau Virtuel uses a camera equipped with a tracking system which communicates directly with the 3D software.
Extended Reality (xR) is the ability to add augmented reality objects and a set-extension to the virtual background consisting of a LED wall. "With Augmented Reality, you can integrate content in the foreground of your scenery and make it interact with the actors 'movements! When filming beyond the LED walls, SMODE handles the set-extension to create endless landscapes" explains Francis Maes, CEO at SMODE.
The content from Unreal (3x 4K in DisplayPort™) is mixed in the SMODE compositing tool together with the 4 SDI inputs coming from the Multicam. "Our FLEX solution has been specifically designed to address these high density requirements with multiple formats while only requiring 1 free PCie slot. FLEX can even support up to 32 I/O on a PCIe slot", explains Gerald Olivier, Head of Product Marketing at DELTACAST.
SMODE is an integrated real-time compositing and media server platform: it brings content designers tools for assembling, compositing and adapting content in the world of real-time video production. Thanks to SMODE, the whole virtual production pipeline is real-time, e.g. the post-processing is fully performed live during the shooting.
The combined FLEX/SMODE solution comes as an additional server on top over the existing Unreal/nDisplay setup, bringing the layer of augmented reality and real-time final compositing.
FLEX allows the SMODE compositing tool to ensure perfect synchronization between the camera stream and the extension while achieving an end-to-end latency of 3 frames.
Virtual production and Extended Reality are transforming the art and craft of filmmaking. And SMODE is excited to bring a reference software solution for creative directors and set technicians.
"The way nDisplay operates with SMODE, via the FLEX solution, facilitates the workflow for any production that involves quick adaptation and great reactivity. Thanks to this solution and the team, we could upgrade our virtual production facility with augmented reality, set extension and advanced real-time post processing. This definitely took Plateau Virtuel's offer to the next level!" explains Bruno Corsini, Plateau Virtuel co-founder.
DELTACAST will be exhibiting its live video transport and processing solutions for developers at Infocomm 2022 in Las Vegas, June 8-10, 2022 (Booth N2212).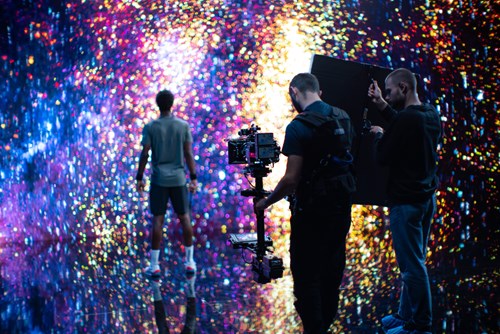 About DELTACAST
Born from the TV broadcast industry, DELTACAST is a leader in the design, development and manufacturing of live video transport and processing solutions for OEMs and developers. Our solutions deliver the highest quality and the lowest latency to serve the most demanding applications in TV broadcasting, ProAV industry, medtech, aerospace and many other markets.
Website: https://www.deltacast.tv
About SMODE TECH
Smode Tech's mission is to develop the real-time compositing and media-server platform SMODE. The team is composed of veteran entrepreneurs, designers, creatives, passionate researchers, and computer scientists based in Paris, France and Nara, Japan. We continuously develop new features for content creators and stage designers and work closely with third party hardware and software editors and research institutions in the development of leading edge graphical products.
Website: https://smode.io/