DELTACAST acts for our planet and unveils new packaging for its video I/O cards
Wednesday, October 26, 2022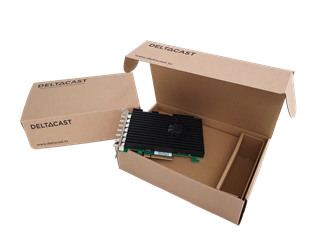 DELTACAST acts for our planet by reducing its own, and its customer's environmental impact.
As from November 2022, DELTACAST is removing all foam from its packaging and improves protection thanks to a custom cardboard shock damper design. 
The new packaging will be more robust by providing a stable cushion for DELTACAST I/O cards, keeping items safe during long-distance transportation, shipping and handling.
The new carton is 100% recyclable and biodegradable.
To keep the quality of the I/O cards, they will however remain protected in electrostatic discharge (ESD) bags.
This new packaging comes with new dimensions of which you can find the details here below.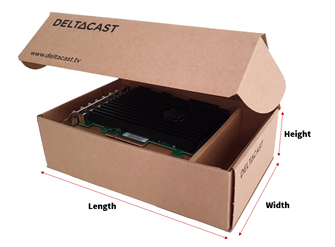 Comparison vs previous packaging:

Ordered products will be always packed individually, and then combined into a grouping box.

Do you still have questions whether it will affect your next deliveries? Contact us right away.