Thursday, January 23, 2020 - DELTACAST video interfacing for media servers at ISE 2020
DELTACAST is present at Integrated Systems Europe (ISE) on 11-14 February 2020, and welcomes you on its booth #8-M365 to discover its different product lines.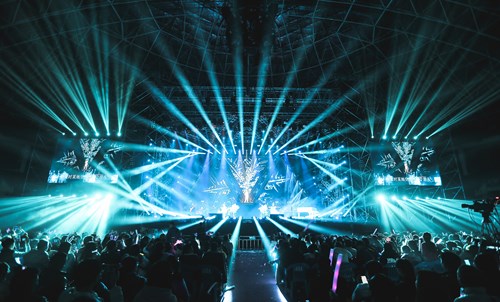 The pro AV market is a wide domain including many different segments, products and use cases requiring specific approaches in terms of video inputs and outputs.
With its large portfolio of video capture and playout solutions for developers, DELTACAST undoubtedly has the building block you need to provide video connectivity to your pro AV product.
Highlighted DELTACAST products at ISE 2020 include the new DELTA-12G1c-hmi10-elp card, and new video output modules for the FLEX ecosystem.
DELTA-12G1c-hmi10-elp
For very compact, multi-purpose, low-latency and low-density to medium-density applications, DELTACAST proposes a new multi-format interface card featuring :
One HDMI input supporting up to 4K60
Four SDI channels that can be used in input and output, and that individually support formats up to 1080p60 (3G-SDI), or can be combined to support up to 4K60 as either 1x12G-SDI or 4x3G-SDI

This new card completes the large portfolio of DELTACAST cards already used by many media server manufacturers for more than 10 years.
DELTACAST cards, renowned for their low latency, provide connectivity in many format types like SDI, HDMI, DVI, and DisplayPort.
NEW FLEX MODULES
For larger installations and very high-density media servers, DELTACAST developed a few years ago a disruptive solution called FLEX.
As an alternative solution to traditional multimedia interface cards, FLEX consists of taking the video interfaces outside of the computer chassis to avoid limitations due PC dimensions and mechanical constraints. That way, FLEX allows handling up to 32 AV channels while consuming a single PCIe slot in the server.
To achieve that, the FLEX solution is based on a gateway card and on external modules either used as independent floating devices or integrated within a 1U external rack.

With its latest developed FLEX modules, the FLEX portfolio today includes connectivity for:
DisplayPort 1.2 input
DisplayPort 1.2 output
HDMI 2.0 input
HDMI 2.0 output
Quad-channel 3G-SDI input
Quad-channel 3G-SDI output
Quad-channel 3G-SDI input with 12G-SDI support
Quad-channel 3G-SDI output with 12G-SDI support.
Have a look at our complete portfolio of developer products, and our staff will enjoy discussing more about your particular at ISE 2020 !
Head to our booth #8-M365 for a chat, or preferably ask in advance to schedule a meeting.