Tuesday, January 28, 2020 - DELTACAST FLEX portfolio completed with – synchronized – output modules
The DELTACAST FLEX solution is an alternative to video interface cards, for applications requiring higher density, and greater scalability and flexibility in terms of interfacing technologies.
As explained in details on the FLEX technology web page, the FLEX ecosystem is based on a gateway card plugged in the computer, and connected to an interface rack hosting interchangeable modules.
Note that the modules can also be used as floating devices, or integrated within your own custom hardware design.
Today, FLEX supports HDMI™, DisplayPort™ and SDI connectivity.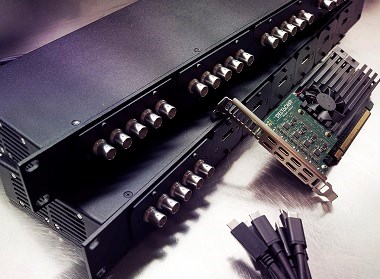 That revolutionary concept allows handling massive quantities of pixels, as you can connect up to 8 modules to a gateway, with each module being able to sustain formats up to 4K60, or its equivalent through four 1080p60 signals. Since the product launch 2 years ago, DELTACAST expanded the FLEX portfolio with new gateway cards and new input and output modules.
Today the FLEX offer includes modules for: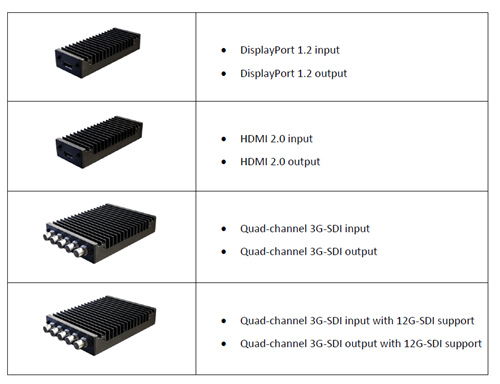 Starting with version 6.14, the VideoMaster SDK also integrates, in association with output modules, a frame accurate synchronization features allowing all the modules connected to a same gateway card to emit synchronized content. That means that all output channels start at the exact same time and execute at the exact same frequency.
Thanks to those new output modules and with the help of the frame accurate synchronization, your software can now drive up to eight 4K display tiles – or up to 32 HD tiles.

That technology offers dense video output solutions for applications like video walls and multiviewers, used in many domains such as control rooms, operation centers, security and surveillance, displays in large venues or in stadiums, on set screen, traffic control centers, datacenter supervision, high-end digital signage, and many more!
Please contact us right away if you wish to buy, test or receive more information about your product of interest!
*The terms HDMI and HDMI High-Definition Multimedia Interface, and the HDMI Logo are trademarks or registered trademarks of HDMI Licensing LLC in the United States and other countries. DisplayPort™ is trademarks of Video Electronics Standards Association (VESA®) in the United States and other countries.