Tuesday, March 26, 2019 - Discover the new DELTACAST products at NAB
DELTACAST highlights new products at NAB
Continuously enriching its portfolio and being on the ball with new technologies, DELTACAST unveils many new products at NAB for today's most demanding broadcast applications and workflows.
12G-SDI
To meet the growing demand for high-density in capture applications with embedded processing, DELTACAST enlarges its family of 12G-SDI cards with a cost-effective and efficient eight 3G-SDI or two 12G-SDI ingest channels board.

Dedicated to ingest server, capture solutions and encoding platforms, the new DELTA-12G-elp-h 20 integrates many on-board processing functions such as:
Low Resolution / Thumbnails generation
Conversion to planar buffer packing
Color space converter
Detection and correction of different defects in the source signal.
Others news on our SDI family:
ASI / SDI
In order to sustain growing demand of low footprint appliances and to satisfy our customers in their constant demand of optimized rack unit size and minimal power consumption, we have re-introduced a hybrid ASI / SDI board in our portfolio.  
Especially designed for high-density in small form-factor appliances, the new DELTA-3G4c-ASI4c-elp-d features four 3G/HD/SD-SDI bi-directional channels as well as four ASI bi-directional channels too.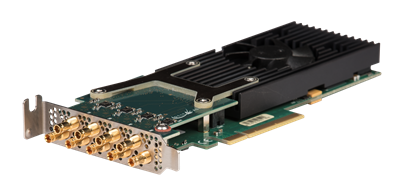 The SDI channels can run independently or be combined to transport multi-link 3G-SDI formats such as 2160p60 in "4-quadrant, square division" or "2-sample interleaved".
The ASI channels allow reception or transmission of DVB-ASI streams with bitrate up to 214Mbps.
All channels direction can be dynamically switched through the SDK, independently on all ports.
The combination of full-performance bi-directional port density and advanced capture and playout features (planar buffer support, chroma up/down sampler, SDI/ASI rate dynamic control,….), makes the DELTA-3G4c-ASI4c-elp-d the ideal video interfacing solution for broadcast encoder, decoder and transcoder applications.
Others news on our ASI family:
Output bitrate configuration can now be extremely fine-tuned to the millionth of bit per second
Output bitrate can now be changed while the channel is running
IP ST-2110
Our ST-2110 and ST-2022 virtual cards, since integrated into our Videomaster SDK, significantly accelerate and simplify adoption of video-over-IP in any appliance running generic NIC cards.
The concept of channel of the Videomaster SDK can be transparently ported to virtual cards, no needs to re-integrate another SDK, DELTACAST ensure full compatibility with other previous cards integration.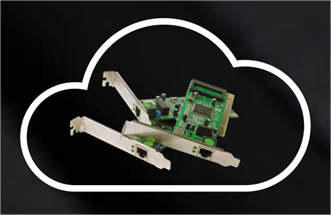 DELTACAST answers the growing demand of using high-performance virtualized video production environments and XaaS infrastructure, implementing all standard and recommendation such as PTP synchronization management and efficient traffic shaping algorithm.
For even more performances, the updated firmware of our ST-2110 hardware card brings you up to date features required (Video, Audio, PTP, ANC, SDP file support and essence resynchronization mechanism).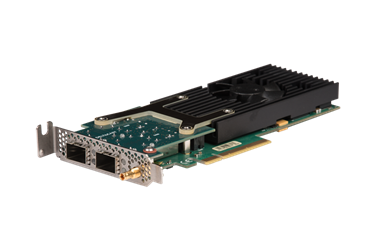 FLEX
DELTACAST invented FLEX, a new way of performing video interfacing, to address 3 major industry concerns:
To increase channel density drastically whilst keeping a reasonable RU consumption
To allow the design of flexible appliances offering interchangeable and re-purposable video interfaces
To ease the inception of scalable systems where the number of input and output channels can be adapted without touching the main product enclosure.
Released earlier this year at ISE in Amsterdam, a new 3G-SDI 4-channels output module has been added to the FLEX family enabling ultra-high-density playout possibilities to the broadcast market.
Low resolution and thumbnails have also been added to the 3G-SDI input module FLEX firmware, enabling lower bandwidth consumption for video preview.
The FLEX modules mechanical design has been improved to offer better thermal characteristics; DELTACAST also proposes a 1RU enclosure for neat system integration.