Thursday, May 23, 2019 - DELTACAST presents its video capture innovation at INFOCOMM 2019
Do you attend the INFOCOMM 2019 tradeshow in Orlando?
If so, do not miss visiting the DELTACAST booth 4343 to discover our revolutionary solution for video interfacing.
This edition of INFOCOMM will allow you to discover all the latest innovations developed for the ProAV market.
Extended FLEX portfolio

Released earlier this year, a new 3G-SDI 4-channels output module has been added to the FLEX family enabling ultra-high-density playout.
Low resolution and thumbnails have also been added to the 3G-SDI input module FLEX firmware, enabling lower bandwidth consumption for video preview.
The FLEX modules mechanical design has been improved to offer better thermal characteristics; DELTACAST also proposes a 1RU enclosure for neat system integration.
At InfoComm, our well-known FLEX range dedicated to media server world is being extended with two brand new modules:
FLEX-DP 01, offering one DisplayPort 1.2 output (release Q2 2019)
FLEX-HMI 01, hosting one HDMI 2.0 output (release Q4 2019)
Don't miss the opportunity to be the first to talk about our future 12G SDI FLEX modules and set up an appointment on the show to further discuss that solution with our representatives.
New 12G-SDI card

To meet the growing demand for high-density in capture applications with embedded processing, DELTACAST enlarges its family of 12G-SDI cards with a cost-effective and efficient eight 3G-SDI or two 12G-SDI ingest channels board. 
Dedicated to ingest server, capture solutions and encoding platforms, the new DELTA-12G-elp-h 20 integrates many on-board processing functions such as:
Low Resolution / Thumbnails generation
Conversion to planar buffer packing
Color space converter
Detection and correction of different defects in the source signal.
Others news on our SDI family:
HDR/WCG Metadata Packing and Signaling
3G-SDI Level B-DS support on DELTA-12G-elp-h 1c / 2c and DELTA-3G-elp-d 4c / 8b, especially targeting interfacing with high-framerate cameras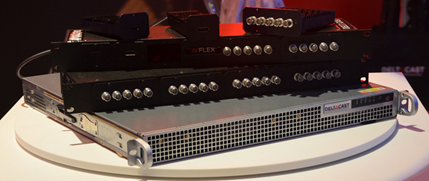 Please contact us right away if you wish to setup an appointment.