Wednesday, August 28, 2019 - DELTACAST presents extended portfolio in all areas at IBC 2019 : 12G-SDI, ST2110, HDMI, FLEX...
Do you attend the IBC tradeshow in Amsterdam?
If so, visit the DELTACAST booth #7.C01 to discover our latest innovations developed for the Broadcast market including 9 new products!
12G-SDI
With the massive and still increasing adoption of the 4K format for major international sports games production and many associated productions, as well as to meet the demand driven by the success of some recent live coverage of 8K video, DELTACAST is proud to welcome 3 new cards in its 12G-SDI portfolio, now including products with up to 4 channels supporting 12G-SDI.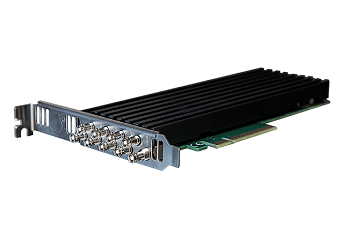 Whether to support high resolution streams in contribution networks or to provide a high-density playback platform without compromising stability, DELTACAST 12G-SDI cards meet the expectations of the most demanding broadcast manufacturers.
All our 12G-SDI products also support 3G-SDI and HD-SDI.
All models supporting: 
4K, 2K, HD and SD
8-bit, 10-bit YUV 4:2:2 color sampling. Rec 601, Rec 709, BT.2020 colorimetry.
HDR format transport (HLG / PQ) and HDR/WCG Metadata Packing and Signaling
Frame-based mode and low-latency (sub-frame) mode
Unified OEM VideoMaster SDK (Windows, Linux and MacOS)
Click here to see a comparative sheet!
All DELTACAST cards including FLEX support a low-latency mode that reduces overall processing chain duration.

Thanks to their sub-frame processing architecture, without any buffer copy, the DELTACAST cards are the perfect choice to reduce end-to-end delay of:
Next generation glass-to-glass live OTT platforms
Software-defined video switchers or routers
Events, concerts or live shows media servers
FLEX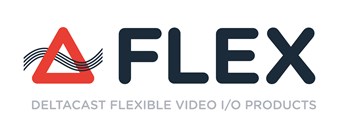 The DELTACAST FLEX range has been extended with 3 new modules offering even more flexibility.
FLEX-12G 10, single 12G/6G or quad 3G-SDI input module, especially tuned for up to 4K60 10-bit capture.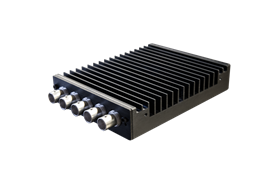 FLEX-12G 01, single 6G/12G-SDI or quad 3G-SDI output module, especially tuned for 4K60 10-bit playout. 
FLEX-DP 01, DisplayPort® 1.2 (HBR-2, 4-lane 5.4Gbit/s) output module.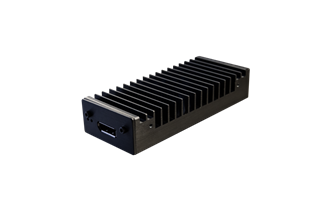 Another module supporting one HDMI 2.0 output is also planned for later this year.
In order to equip smaller density systems and x8 PCIe buses, DELTACAST introduces 2 new gateway cards:
DELTA-gwy 308-8: up to 8 modules on x8 PCIe bus.
DELTA-gwy 308-4: up to 4 modules on x8 PCIe bus.
See our comparative sheet here!
IP ST2110
The DELTACAST ST2110 and ST2022 virtual cards, since integrated into the VideoMaster SDK, significantly accelerate and simplify adoption of video-over-IP in any appliance running generic NIC.
The concept of channel of the VideoMaster SDK can be transparently ported to virtual cards. No need to integrate another SDK, DELTACAST ensures an optimal backward compatibility with previous cards integration.
DELTACAST meets the growing demand for high-performance virtualized video production environments and XaaS infrastructures, implementing all standards and recommendations such as PTP synchronization and efficient traffic shaping algorithm.
For even more performances, the updated firmware of our ST2110 hardware card brings you up-to-date features (Video, Audio, PTP, ANC, SDP file support and essence resynchronization mechanism).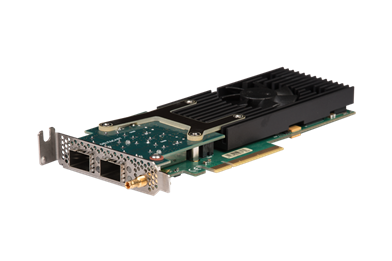 ASI/SDI
Announced earlier this year at NAB, the new DELTA-3G4c-ASI4c-elp-d features four 3G/HD/SD-SDI bi-directional channels as well as four ASI bi-directional channels.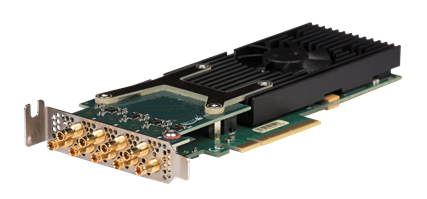 The SDI channels can run independently or be combined to transport multi-link 3G-SDI formats such as 2160p60 in "4-quadrant, square division" or "2-sample interleaved".
The ASI channels allow reception or transmission of DVB-ASI streams with bitrate up to 214Mbps. All channels direction can be dynamically switched through the SDK, independently on all ports.
The combination of full-performance bi-directional port density and advanced capture and playout features (planar buffer support, Chroma up/down sampler, SDI/ASI rate dynamic control), makes the DELTA-3G4c-ASI4c-elp-d the ideal video interfacing solution for broadcast encoder, decoder and transcoder applications.
==> Visit the DELTACAST booth #7.C01
---