Thursday, March 08, 2018 - The ProAv market welcomes the new FLEX experience
MODULO PI creates a new media server generation integrating the FLEX solution
During ISE 2018, DELTACAST revealed its new FLEX family of products, revolutionizing the video interfacing by bringing in new perspectives in terms of density, scalability and flexibility. 
The show confirmed the audio-visual market enthusiasm for this new concept, and many visitors turned into adopters with very concrete interest and projects for the FLEX solution!

The product has already convinced several video product developers including Modulo Pi, a long-time customer of DELTACAST.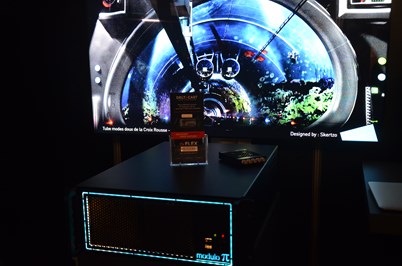 Modulo Pi is specialized in developing innovative software and hardware solutions aiming at the audiovisual and museography industries or events. 
During ISE, Modulo Pi showcased a preview of their live mixer embedded on their Modulo Kinetic and Modulo Player solutions, coupled with the new FLEX modules offering more inputs, and a lot more flexibility in live conditions to manage media server sources.
"Thanks to FLEX, we can support a large number of inputs especially in HDMI and DisplayPort, what is the ideal fit for the corporate event market and a complementary offer to our solutions based on DELTACAST 4-input SDI and 2-input HDMI cards ", said Yannick Kohn, Modulo Pi's Founder and CEO. "DELTACAST FLEX popped out at a perfect time for us, as it allows feeding our new live mixer with a large amount of inputs, with the ability to select the appropriate types of interface depending on the context".
FLEX will be in full-production a bit later in the semester. Some privileged customers like Modulo Pi already secured their place onboard, and we invite you contacting DELTACAST for early access to that promising technology for your future developments as well.