Tuesday, May 15, 2018 - DELTACAST presents its video capture innovation at INFOCOMM
Do you attend the INFOCOMM 2018 tradeshow in Vegas?
If so, do not miss visiting the DELTACAST booth N1914 to discover our revolutionary solution for video interfacing!
Over the years, DELTACAST has built a solid reputation thanks to its robust and high-performing video interface cards for SDI, HDMI, DVI and DisplayPort.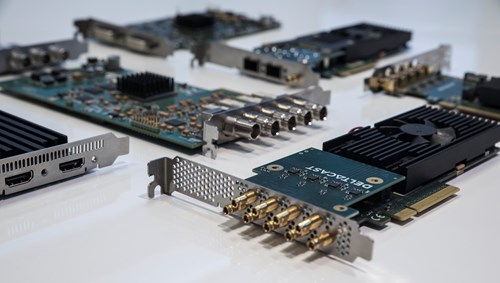 Carefully listening to its customers and taking their requirements into account, DELTACAST designed an innovative solution for video interfacing.
Today, we are proud to announce the FLEX family of products, bringing the market with a totally new level of video interfacing and offering extended perspectives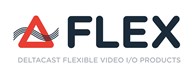 in terms of density,  scalability and flexibility.
What you will discover on our INFOCOMM booth N1914, in addition of our standard families of capture and playout cards, is a new form of video interface hardware based on a gateway PCI Express card and on external video modules.
The gateway allows connecting up to 8 modules in parallel, while only using a single PCI Express slot.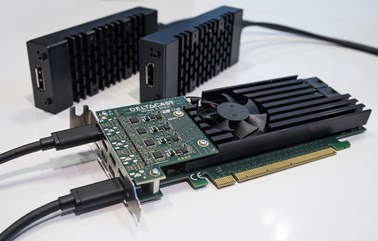 The first available modules will be :
FLEX-DP 10, offering one DisplayPort 1.2 input
FLEX-3G 40, hosting four 3G-SDI inputs
FLEX-HMI 10, featuring one HDMI 2.0 input
Interface modules can be switched without touching the PC enclosure. Their versatile mechanical design allows using them as external boxes, integrating them within your product chassis, or within an independent expansion rack.
Obviously, this new solution remains supported by the VideoMaster SDK so that integrating it in your product is very similar to using our traditional video cards.
Imagine being able to capture up to 8 UHD/4K sources, or even up to 32 HD feeds. Understand that you will be able to combine SDI, HDMI and DisplayPort interfaces at a glance depending on your needs.
Does that sound interesting for your business? Do not hesitate to contact us.