Tuesday, November 13, 2018 - DELTACAST FLEX output modules are now available!
To start, let's summarize FLEX in a few words, in the case you missed previous press releases and live showcases :
DELTACAST invented FLEX to address 3 main industry concerns:
To increment channel density drastically whilst keeping RU consumption reasonable
To allow the design of flexible appliances offering interchangeable and repurposable video interfaces
To ease the inception of scalable systems where the amount of input and output channels can be adapted without touching the main product enclosure.
To achieve that, the FLEX ecosystem is based on a gateway card plugged in a PCI Express slot of your server and featuring 8 ports on which you connect external modules through specific cables. Each module is an independent device that manages one or several video channels.
FLEX modules are designed to be used as floating devices, or assembled in a DELTACAST 19-inch rack, or integrated within your own specific product enclosure.
The FLEX portfolio today includes single-channel DisplayPort 1.2 and HDMI 2.0 capture modules, a quad-channel 3G-SDI input module, and is now expanded with a quad-channel 3G-SDI output module.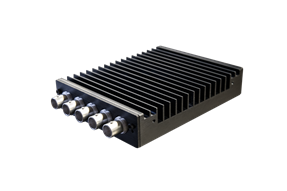 The latest addition to the FLEX portfolio is FLEX-3G 04, a four outputs 3G-SDI module.
FLEX-3G 04 can simultaneously handle four 1080p60 playout channels. Combining its 4 outputs together, the module is able to output a 2160p60 feed – in quadrants or 2SI – without any compromise.
Connecting 8 of these modules to a DELTA-GWY 316-8 gateway card, the solution reaches a massive density of 32 output channels, making it the ideal fit for multichannel applications like playout servers, control rooms monitoring solutions, video walls and multi-projectors DLP installations, cloud edge devices, and many more use cases.
For all these applications, using FLEX brings you different benefits :
It is a very compact and neat interfacing solution, with the FLEX 1RU rack offering room for up to 16 BNC connectors
All SDI output channels can be genlocked onto an external reference thanks to the modules analog sync input, taking out the need for an external frame synchronizer
All channels can be used simultaneously and independently from each other. Seen from your application, they are grouped four by four like if your server was hosting 8 separate multichannel cards. Thinking at virtualization, each module can easily be dedicated to a different virtual machine using PCI pass-through technology
SDI channels can be mixed with other FLEX modules hosting HDMI or DisplayPort interfaces, offering a great versatility to your product, including last minute changes, without having to deal with external converters
Like all the DELTACAST PCI Express video cards and FLEX modules, FLEX-3G 04 is of course supported by the VideoMaster SDK. Its unique programming interface and hardware abstraction model are one more vector for flexibility and portability from one device to another one.
This must sound interesting for your business. Contact us right away if you wish to buy, test or receive more information about your product of interest!