New video interfaces for your products with DELTACAST
The new HDMI 2.0 dual-channel capture card follows DELTACAST strategy, proposing new video interfaces as soon as sollicitated by the market.
The card is of course managed by our unified VideoMaster OEM SDK, which makes the integration of these products very easy and allows an immediate transitions towards new products. This new one card HDMI 2.0 is supported by the last version of VideoMaster (6.01).
The DELTA-h4k2-elp 20 is a 2-channel high-end HDMI™ 2.0b capture card. Both inputs support any HDMI format but the card is definitely tuned for high-performance applications such as dual 4K 60Hz capture and HDR formats.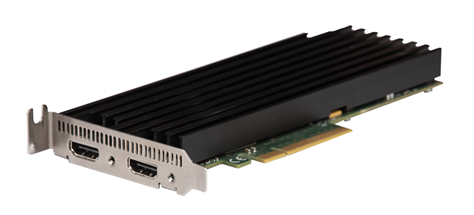 Moreover, this new card includes exciting features such as proxy scalers, on-board color space converters with support for 8, 10 and 12 bits formats, frame rate decimator, embedded audio support, and HDMI metadata support.
Thanks to an advanced EDID management with custom content support, the DELTA-h4k2-elp 20 seamlessly brings any HDMI™ signal into your media server. The DELTA-h4k2-elp 20 offers an impressive performance vs power consumption ratio and it this proposed on very a compact form factor and with passive cooling.
So this card is the ideal solution for many applications where performance and reliability are mandatory.
In parallel of the new card support within VideoMaster, DELTACAST goes on proposing evolution of its free applications. The renowned DELTACAST EDID Editor application now supports CTA 861-G extensions blocks dealing with HDR static and dynamic metadata linked to HDMI 2.0.

Last but not least, you can use the DELTA-h4k2-elp 20 to capture DisplayPort signals with an active adapter we provide. This enables capture of up to 2x 4K60 4:4:4 DisplayPort 1.2 streams with DELTA-h4k2-elp 20.
If you want more information or purchase your product today, contact us right away!