Wednesday, December 07, 2016 - UHDTV at reasonable deployment costs!
A 4K uncompressed picture requires four times the bandwidth of a HD signal. It hence requires the whole SDI cabling infrastructure to be multiplied by four.
On the other hand, current workflows for IP transport of video signals are based on 10GbE networks, while a 4K60 feed requires 12 Gbps.
To transport 4K streams through the existing infrastructures, a mezzanine compression (like TICO, VC-2…) makes completely sense. 
DELTACAST has selected TICO for its first implementation of mezzanine compression.
TICO - also known as SMPTE RDD 35 - offers a 4:1 compression ratio while insuring visually lossless quality and ultra-low latency. 
DELTACAST is member of the TICO Alliance and actively works on integrating this technology within its portfolio of video I/O cards.
DELTACAST TICO-powered products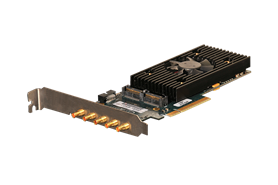 DELTA-3G-elp-tico-d 4C is a quad-port SD/HD/3G SDI card. Each port can be used as an input or an output. UHD and 4K video can be conveyed either on four links, or on a single wire thanks to the TICO compression.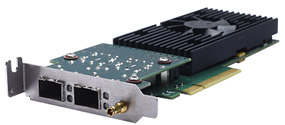 DELTA-ip-ST2022-6-tico is a dual-port 10GbE card. The main port supports up to three 3G/HD/SD SDI channels embedded in ST2022-6 datagrams with optional support for FEC streams as per ST2022-5, while the second 10GbE port is used for seamless protection switching of datagrams as per ST2022-7. UHD formats are supported thanks to TICO compression. The card can be freely re-flashed as an input or an output card.
Output channels are powered with TICO profile-2 encoder. Input channels support both profile-1 and profile-2.
If you want more information or purchase this product today, contact us right away!