Thursday, May 26, 2016 - See DELTACAST involvment in the AV market at InfoComm2016
DELTACAST has built a strong reputation in the TV broadcast market with its video cards addressing popular SDI standards (from HD to 4K) and with its high activity in the IP revolution. 
Several years ago, DELTACAST decided to target the AV market and added new cards in its portfolio, providing DVI and HDMI interfaces.
Those cards are of course integrated in the unified VideoMaster SDK, which allows a very smooth integration of any DELTACAST card in the customer application and makes the transition to new standards very easy. They can also be managed through DirectShow filters. 
As for the TV broadcast market, the success of DELTACAST lies in the quality of the signals, low latency, management of high resolutions and, above all, in the high level of the support provided by our team of engineers to our OEM customers.
InfoComm will be a significant step in the development of DELTACAST in the AV market with the announcement of new products.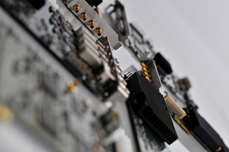 The next card designed by DELTACAST for the AV market will allow the capture of HDMI 2.0 streams. 
This card is a mandatory step for addressing the high resolution video standards, typically 2160p60 (4K 60fps), also new HDR formats and new colorimetry BT.2020 standards.
This card will of course be integrated in the VideoMaster API, making the transition from DVI or HDMI 1.4 straightforward.
The AV market will also be in position to take profit from the possibility to use IP as a communication support, thanks to the DELTA-ip-ST2022-6 10 and DELTA-ip-ST2022-6 01 set of cards that allow to capture or playout 10G IP streams.
The addition of the TICO mezzanine compression on this DELTA-ip-ST2022-6 01 will present a nice advantage: a simple way to transfer a 4K 60fps uncompressed stream on a single 10GE link.
Please take profit from your presence at InfoComm to visit our booth #N2513 and have a discussion with our commercial and engineering team.