Friday, February 26, 2016 - NEW compact - flexible - doubled performance 4K solution from DELTACAST
NEW 4K solution from DELTACAST
DELTACAST is pleased to announce the immediate availability for purchase of the new dual-channel DELTA-3G-elp-d 8c.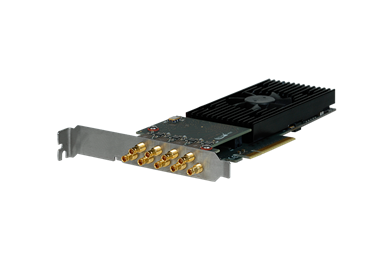 This 8-channel I/O card has the same compact form factor as the very popular DELTA-hd-elp-d 80 and DELTA-hd-elp-d 44, with doubled performances (PCI-e Gen2 x8 instead of PCI-e Gen2 x4, 3G-SDI instead of HD-SDI), new features (color space converters, planar YUV formats support, 4K SMPTE ST425-3/5 support, video lines CRC check, lower latency for PCIe transfers, …) and valuable flexibility thanks to its 8 configurable I/O channels.
The DELTA-3G-elp-d 8c brings dual 4K ingest and playout capabilities to your products and applications. It can also be configured to run 8 independent SD, HD (1080i) or 3G (1080p) inputs or outputs.
This new products will be very easy to integrate for new and existing DELTACAST customers since it will be supported by the well-known and unified VideoMaster SDK.
DELTACAST is ready for tomorrow, are you?